FPDK-14P-5101-S35A
BAUMER
Référence : 11001200
Series 14 energy-saving photoelectric cells
Miniature plastic housing.
Connected with an M8 4-pole connector.
Switching, adjustment assistance and soiled lens indicator LEDs.
PNP output with programmable light / dark switching.
Energy-saving version (Sn = 600 mm), background suppression (Sn = 200 mm), reflex with polarisation filter (Sn = 5 m).
An optional fixing bracket is available separately.
| | |
| --- | --- |
| FZDK 14P 5101 S35A | |
| Sn range limit: | 5 → 600 mm |
| Sb operation range: | - |
| FHDK 14P 5101 S35A | |
| Tw adjustable range: | 20 → 350 mm |
| Sensing range: | Tb @ Tw = 20 mm 5 → 20 mm |
| Sensing range: | Tb @ Tw = 350 mm 20 → 350 mm |
| FPDK 14P 5101 S35A | |
| Sn range limit: | 6 m |
| Sb operation range: | 5 m |
| Common characteristics: | |
| Voltage range (UL class 2) : | 10 → 30 VDC |
| Max. average power consumption : | 40 mA / 50 mA |
| Max. output current: : | 100mA |
| Residual voltage: | ≤ 2.2 Vdc |
| Activation / deactivation time: | ≤ 1 ms |
| Operating temperature: | -25 °C +65 °C |
| Dimensions excluding connector (mm): | 43 x 14.8 x 32.5 |
| IP 67 | |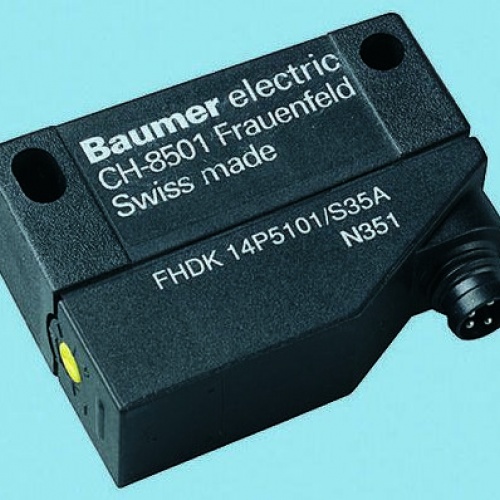 Dispo : 2.00
25 €